The elements I wanted to bring together for Kate and Mike's rehearsal dinner invitations included their green and navy wedding colors, a little striping detail and a small town theme. Specifically, a small town Manchester, Michigan theme - where the wedding and rehearsal dinner will be held.
In order to translate the theme, I transformed a photo of downtown Manchester into a solid green sketch, and this immediately became a focal point of the design. To balance the sketch, I highlighted their names in a green striped font that is accented with ornaments that I thought resembled the script font used on their wedding invitations.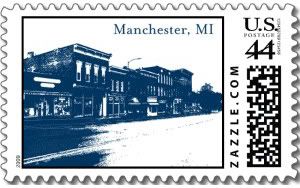 Metallic green mailing envelopes were addressed in navy to match, and further customized with a navy
Manchester postage stamp
.