Before the big day, the bride, groom and their wedding party typically practice and rehearse the ceremony and then gather for a rehearsal dinner, traditionally hosted by the groom's parents.
Rehearsal dinner invitations
should complement the style and formality of the wedding, but it is an opportunity to have fun with a different color scheme, creative wording, or a special design theme.
Shop
Plush Paper's
most popular rehearsal dinner invitations
here
, featuring beautiful colors and many unique styles and themes. All of the invitation designs are set up as templates so you can quickly and easily customize the text and preview your design before ordering online.
A few of my favorites are featured below
Before they say "I Do" theme
Wedding Rehearsal and Dinner Invitations
by
Plush_Paper
Simply chic blush pink and black design
Rehearsal Dinner Invitations | Vintage Floral
by
Plush_Paper
Black and white chalkboard style design
Wedding Rehearsal Dinner | Nautical Theme Announcements
by
Plush_Paper
Navy blue, white and yellow colors
Wedding Rehearsal Dinner Invitations | Chic Script
by
Plush_Paper
Formal elegant design in ivory and gold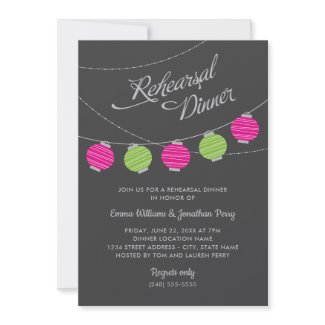 Rehearsal Dinner Invitation | Paper Lanterns
by
Plush_Paper
Modern design in black, pink and green colors
Wedding Rehearsal Dinner | Autumn Fall Theme Personalized Announcements
by
Plush_Paper
Rustic and elegant fall foliage design
Wedding Rehearsal Dinner | Practice Makes Perfect Custom Invite
by
Plush_Paper
Whimsical handwritten lettering and creative wording
Rehearsal Dinner Invitations | Ivory Starfish
by
Plush_Paper
Neutral and contemporary beach style
Wedding Rehearsal and Dinner Invitations | Purple
by
Plush_Paper
Plum purple script and scroll flourishes
Rehearsal Dinner Invite | Eat Drink and be Married
by
Plush_Paper
Modern vintage style - fun theme with chic typography
Bold and sophisticated black and white damask design