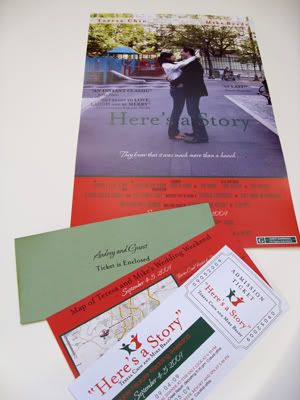 For those of you who follow my blog, you may remember Teresa and Mike's
movie marquee save the dates
that were created earlier this year. They came together so well that I couldn't wait to work on their movie poster wedding invitations!
Movie poster engagement photo by
Elizabeth Bick Photography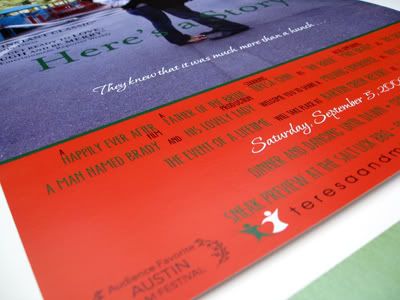 Their poster invitation features a photo of the happy couple with the title "Here's a Story", and has their names across the top and wedding invitation details below. One of my favorite details is the movie review quotes that were added.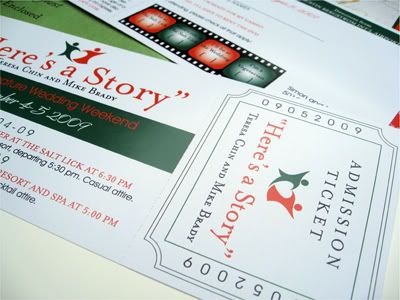 Within a personalized "Ticket is enclosed" envelope, guests will find a response card that is designed as a two-sided movie ticket postcard. It has a ticket stub for guests to tear off and retain. Clever movie-themed wording is used throughout this invitation set, and I love the "I'll be ready for my cameo" that they chose for the yes response. Also, because they are hosting a "Wedding Day Double Feature" (rehearsal and wedding day) for all guests, they included a fun film strip check box to get a head count for both events.
A two-sided information card was also created for the accommodations, map and directions details.
Teresa and Mike will be sending these festive unique invitations in white poster mailing tubes with custom mailing labels that coordinate with their invitation sets.